Personal loans are the ideal way to purchase a new car, a holiday or home improvements.

Even Better News...
All Finance Australia can arrange secured and unsecured personal loans for vehicle leasing, salary sacrifice or novated leasing.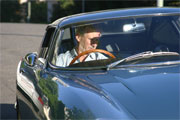 Your personal finance for a car loan, boat loan or motor bike loan, renovations or a family holiday, is just one step away... All Finance Australia can arrange secured and unsecured personal loans for any worthwhile purpose.
Better still, every finance solution will suit your requirements with rates, terms and conditions individually programmed around your financial status.
With access to over 10 major financiers, you are able to fast track your purchase whether it be for home renovations, a family holiday you have been dreaming of, or rolling a number of debts into one.
With an option for pre-approved finance that allows you to negotiate towards a new car loan or used car loan, motor bike loan, boat loan, and you can be one step closer to owning your purchase. These may consist of:
Secured Personal Loan - where the financier funds the purchase of an item, normally a vehicle and uses that item as security against the loan.
Unsecured Personal Loan - where the financier provides funds for any worthwhile purpose and offers a contract of repayment over a specific term. The only thing you may need to do is demonstrate your ability to repay and show credit worthiness.
Personal Car Loan - where the financier funds the purchase of a vehicle and uses that vehicle as security against the loan until the loan is finalised.
Business Car Loan - can consist of either chattel mortgage, commercial hire purchase, car lease or novated lease.
Vehicle Lease - Take advantage of All Finance Australia's purchasing power and management capabilities to minimize the cost on new vehicles. Smart management = minimal risk.
Salary Sacrifice - Novated Leasing - If you have been considering a novated lease you can have an arrangement between you and the financier and your employer that normally applies to a vehicle. You obtain finance for the car of your choice from the financier who offers this facility and you make an arrangement with your employer to take the repayments out of your salary via "Salary Sacrifice".The finance contract is between you and All Finance Australia the financier and if you change jobs, you take your lease and your car with you.
Motor bike loan - Boat Loan - Essentially, a boat loan or motorbike loan is no different from a car loan.There are a couple of ways you can borrow money - low-interest (well-secured) loans and short-term loans. You can get a secured motor bike loan by simply talking to the experts at All Finance Australia. They have the contacts and know the deals - it can be yours today.
In most cases, All Finance Australia can arrange approval for 100% of the purchase price as a secured and unsecured personal loan.
Act now and talk to the professionals...
Decide for yourself what financial service is best for you. Call Now on 1300 760 335 or contact us here.